IRON-ON PICTURES FOR RESELLERS
REGISTER NOW!
Shop at retailer conditions and surprise your customers with our unique products! Log in to see all products and prices.
Iron-on pictures for B2B customers
Welcome to nuukk retail store for iron-on pictures! Here you will find cute iron-on pictures that are guaranteed to please your customers.
Iron-on pictures are transfer motifs that can be applied to garments or other textiles. They are a popular way to customize and enhance clothing. Quality and durability are a top priority at nuukk.
We have been active in the B2B sector for more than 10 years and supply bricks and mortar shops, wholesalers and online shops at wholesale prices.
We know what retailers need and are happy to help you with various promotional materials for the store and great imagery for the online store to make selling our iron-on pictures as easy as possible.
What does this mean for the retailer?
Selling made easy. The customer gets new ideas for the possible application of our iron-on pictures, which has a positive effect on the purchase decision.
Your time is valuable. You don't have to explain our product to the customer, our cleverly designed packaging and our free advertising material will do that for you.
That's what your customers will love about nuukk iron-on pictures:
• Made in Germany
• For concealing small holes and stains
• Several gender-neutral motifs on one sheet
• Continuously new and designed by different illustrators
• Washable at 60 degrees and suitable for tumble dryer
• phthalate-free
• can be ironed onto black and white motifs
• Packaged in an environmentally friendly way in cooperation with a Berlin social project
• Detailed instructions for use enclosed
That's what our retailers love about nuukk iron-on pictures:
• many changing motifs
• Easy marketing through free promotional materials
• fast delivery
• no minimum order quantity
Buy iron-on pictures in our B2B Shop
IRON-ON PICTURES FOR AT RETAIL PRICES:
WE MAKE MARKETING SIMPLE!
Free promotional material for your store
In the nuukk retail store there is free promotional material, so that your customers immediately have all the advantages of the nuukk iron-on pictures on hand. Simply place this sturdy flyer next to the iron-on pictures. Perfect for stationary trade.
Find all iron-on-pictures here
IRON-ON PICTURES FOR WHOLESALE
IRON-ON PICTURES WITH ADDED VALUE
The favorite sweater has a hole? The gym bag just looks too boring? With our cool iron-on pictures, all textiles can be embellished and individualized in no time. Your customers will be thrilled.
The advantages are obvious: favorite pieces can still be worn, keyword upcycling. This saves money and is great for the environment. Two aspects that are becoming increasingly important to customers today.
5% DISCOUNT FOR YOU!
Sign up for our B2B newsletter for wholesalers and receive 5% off your first order, exclusive offers, product news, as well as tips and tricks for marketing our products in your store.
My team and I will be happy to answer all your questions regarding our products and wholesale terms.
Contact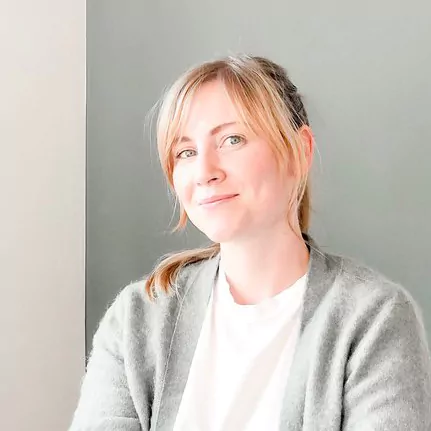 Andrea Hild, founder of nuukk